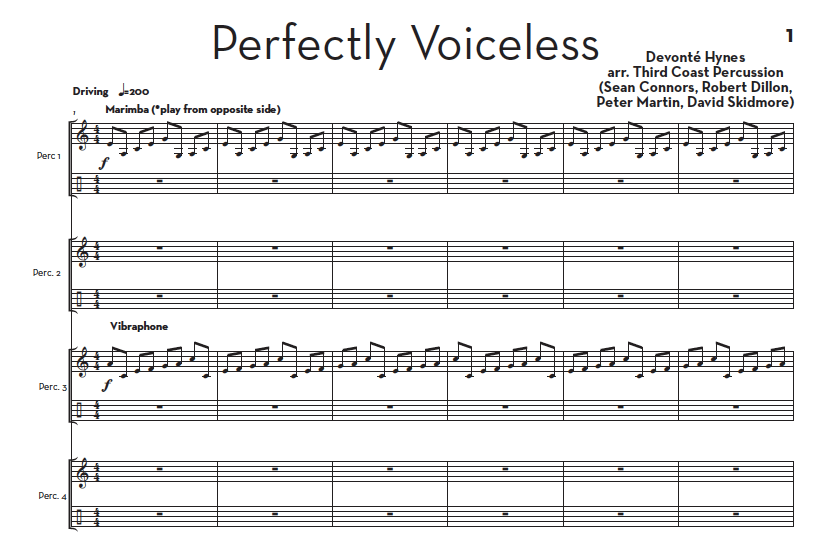 Perfectly Voiceless - Score and Parts
Sent in PDF format.
*PLEASE NOTE: Customers will receive the files via email from a member of Third Coast Percussion's staff. Files will be sent during business hours (M-F, 9am-5pm Central Time).*
If you require a tax-exempt purchase, please contact TCP Administrative Assistant Mayshell Morris ([email protected]).
Watch TCP's performance on YouTube:
"Perfectly Voiceless" was composed by Devonté Hynes (b. 1985), a British singer, songwriter, composer, producer, and author, and arranged by Third Coast Percussion.
Hynes composed the music for an entire evening-length program featuring Third Coast Percussion and Hubbard Street Dance Chicago, with new choreography created by Emma Portner, Jon Boogz, and Lil Buck, which premiered in Chicago in September 2018. To create this 75-minute opus, Hynes composed music with synthesized and sampled sounds, which he then sent to Third Coast Percussion. TCP experimented with instruments to create a live performance version of the music, which they then recorded and sent back to Hynes for feedback, then eventually to the choreographers to create the dance. Perfectly Voiceless was composed as a musical interlude between choreographed pieces in this larger program.
Third Coast Percussion's album "Fields," which includes all of the music composed by Hynes as part of the project with Hubbard Street Dance Chicago was released on Cedille Records in October 2019. The album was nominated for the GRAMMY® Award for Best Chamber Music/Small Ensemble Performance in 2021.
This work was commissioned by the Charles and Joan Gross Family Foundation. The project was supported in part by an award from the National Endowment for the Arts, the Third Coast Percussion New Works Fund, and the Elizabeth F Cheney Foundation.