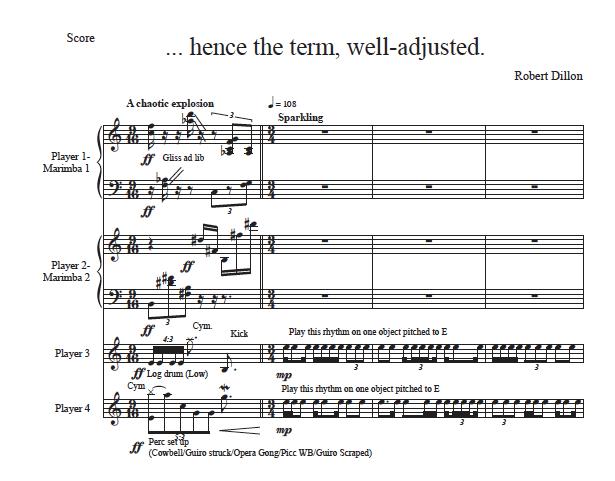 ...hence the term, well adjusted. - Score and Parts (PDF)
Sent via email in PDF format.
*PLEASE NOTE: Customers will receive the files via email from a member of Third Coast Percussion's staff. Files will be sent during business hours (M-F, 9am-5pm Central Time).*
If you require a tax-exempt purchase, please contact TCP Administrative Assistant Mayshell Morris ([email protected]).
By TCP member Robert Dillon.
Watch TCP's performance on YouTube:
"…hence the term, well-adjusted" (2017-2020) is scored for two marimbas (5.0 and 4.3 octave) and two small percussion set-ups. The performers must find their own collection of sounds pitched to a single note (E-natural). The unique combination of sounds forms the starting point for the piece, which progresses into a series of different directions, always resetting to the opening before proceeding down a new path.
Third Coast Percussion member Robert Dillon has enjoyed a career as an orchestral, solo and chamber musician, as well as an educator for all ages, and since college, has pursued music composition as an additional expressive avenue. His music appears on TCP's just-released "Archetypes" album as well as the Grammy-nominated 2019 release "Perpetulum", and his music has been performed by university percussion ensembles across the country and overseas.