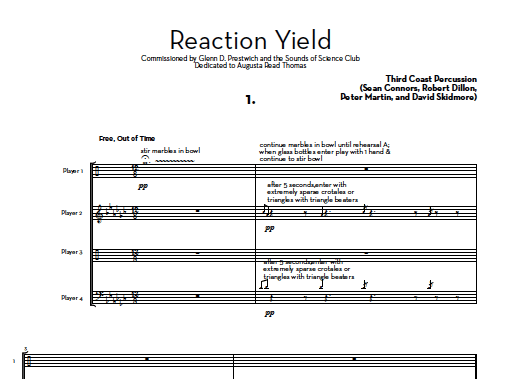 Reaction Yield - Score and Parts
Sent in PDF form.
If you require a tax-exempt purchase, please contact TCP Office Manager Rebecca McDaniel (rebecca@thirdcoastpercussion.com).
Watch TCP's performance on YouTube:
Reaction Yield is the first work that the four members of Third Coast Percussion composed collaboratively as a quartet. Ideas for the piece, and the collaborative process used to create it, were inspired by the experimental process used by synthetic chemists to create new reactions and materials. Reaction Yield was commissioned by Glenn D. Prestwich and the Sounds of Science Commissioning Club, for the Ear Taxi Chicago Festival of New Music in October 2016.