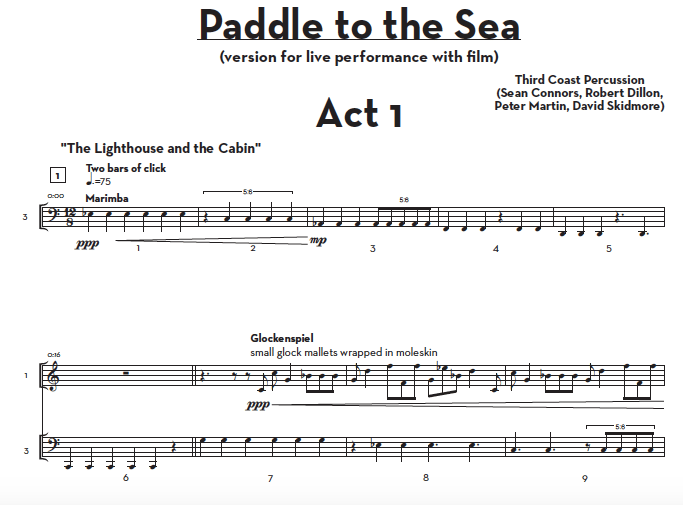 Paddle to the Sea — Score and Parts
Sent in PDF format. Comes with accompanying click tracks (MP3 format).
*PLEASE NOTE: Customers will receive the files via email from a member of Third Coast Percussion's staff. Files will be sent during business hours (M-F, 9am-5pm Central Time).*
If you require a tax-exempt purchase, please contact TCP Administrative Assistant Mayshell Morris ([email protected]).
Watch TCP's performance of Act 1 on YouTube:
This version of the music is made to align with the 1966 film "Paddle to the Sea" from the National Film Board of Canada, and matches what Third Coast Percussion performs live with the film. It differs slightly from Third Coast Percussion's commercial recording "Paddle to the Sea" on Cedille Records.
The work can be performed with the film or as a standalone concert work. Contact National Film Board of Canada for rights to the film (https://www.nfb.ca/).
"Paddle to the Sea" was commissioned with lead support from the Maxine and Stuart Frankel Foundation. The work was co-commissioned by the Cleveland Museum of Art, the Meany Center for the Performing Arts at University of Washington, ArtsLIVE at University of Dayton, and the University of Notre Dame's DeBartolo Performing Arts Center.